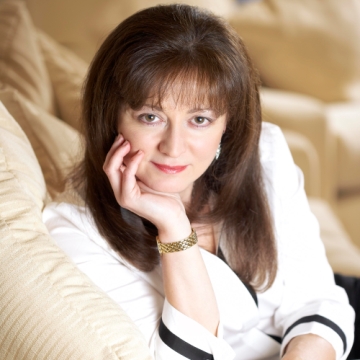 Debbie Wiseman was born on May 23, 1963 in London. She studied at Trinity College of Music Junior Department, composition and piano. Later she continued her studies at the Guildhall School of Music and Drama, where she recibed classes of piano by James Gibb, and studied composition with Buxton Orr. At present she is one of the most excellent composers in the music scene of contemporary cinema. Her works detach a very accented melodic aura, to the purest British style. Between its most well-known sound-tracks we find Wilde (1997), Arsène Lupin (2004) or the more recent A Poet in New York (2014). Her career spans almost 200 titles, since she started in the 80s, until the present.
You studied composition with Buxton Orr. How was your relationship with him, and that meant for your future career in cinema?
Buxton Orr was a wonderful teacher – very inspiring and a great composer too. He had written film scores as well as much classical music. He was, without doubt, the biggest influence in my composition and career.
What was the first film in which you worked?
The first film was Tom & Viv – a film about the poet T.S.Eliot and his doomed marriage to Vivien Haigh-Wood. Willem Dafoe played Tom, and Miranda Richardson played Viv and it was a wonderful opportunity for me as a first movie. It also led to me working again with the same director, Brian Gilbert, on "Wilde", a film about the life of Oscar Wilde starring Stephen Fry. That film was very important too as many wonderful projects followed on from that production, including the opportunity to compose music to accompany two of Oscar Wilde's fairy stories which was released on the Warner Classics record label.
You're one of the first women who have worked in film music with Rachel Portman, curiously the two are British. How do you see the emergence of new women composers in the music scene?
Historically, it has been a very male-dominated industry, but over recent years I've noticed that, happily, I'm working much more with women directors, editors and producers, which is great news! More women seem to be entering the industry and I certainly see more female musicians and female composers starting out in the business.
You have more than 200 titles in your filmography. Where do you get so much time to compose many works?
The truth is that I love composing music, and so most of the time it doesn't feel like work…more like strenuous play! I've been fortunate to have been asked to write music for such a wide range of productions and the variety in styles and genre is a huge part of the enjoyment for me.
You've worked almost more on TV than to the big screen. What are the differences between working believes there for, relative to the other?
Technically, the job is the same whether you compose for film or television – I write music to suit the drama on screen. Occasionally there are differences in budget and timescale, but ultimately my job is to create the best music to help tell the story.
Tell us a bit about your score for Arsène Lupin, a score that I especially like.
It was a great experience for me – the first time I'd composed a score for a French film – and I was able to write for a large symphony orchestra. We also recorded the score at Abbey Road Studios which was a real thrill. There was a lot of music in the movie, and lots of different styles required…comedy, action, drama, romance. It was a huge challenge but without doubt one of the most enjoyable experiences.
Also, what you can tell us about your score for A Poet in New York.?
A completely different film to Arsene Lupin, but equally enjoyable. It tells the story of the troubled life of Dylan Thomas and the main theme had to somehow the landscape of his homeland Wales, and the poetry within Dylan. The start of the film sees Dylan arrive in New York and it was a great opportunity to write a vibrant jazz-influenced opening theme for saxophone and orchestra.
You are a big conductor. Do you usually orchestrate your compositions, or relegate this task in another person? Have you relegated in any occasion the band direction in another colleague?
I have always orchestrated all my own scores throughout my career – for me, the two come hand in hand. When I write a melody I decide at exactly the same time who will be playing that melody. It's something that was ingrained in me from my days of studying with Buxton Orr. He was very pedantic about orchestration and expected, quite rightly, that everything should be beautifully written for the orchestra. I've also always conducted my scores. I feel that by the time I get into the studio, I know the music better than anyone else, and therefore it makes sense for me to conduct the score! I also enjoy that part of the process enormously – working with talented musicians is a very exciting part of the job.
With what directors have you felt more comfortable, or with major freedom, at the time of composing?
I've been so lucky to have worked with many different directors. Everyone has their own individual way of working and part of the fun of the job is collaborating and being inspired by them. The director I've worked with the most, and have always enjoyed working with hugely, is Peter Kosminsky. It was our sixth collaboration together on "Wolf Hall" and it was a very special production.
What cinema musicians do you like most and why?
I love the music of John Barry and Ennio Morricone. I particularly love melodic film music and their melodies are memorable and feel as if they've been written effortlessly, which is a great skill.
How do you see the current music scene in film music?
I enjoy a lot of the film music currently being written, and I would love to hear more melodic music too. Melody seemed to be a little unfashionable for a while, but happily it seems to be coming back into fashion!
What projects are you working on currently?
I'm currently working on a 20-part series for the BBC – "Dickensian" – which will start broadcasting at Christmas. I've also just finished two 10-part series for the BBC – "The Coroner" and "Father Brown". I've recently been appointed Classic FM's Composer in Residence, and I've been commissioned by Classic FM to write an album of music inspired by the signs of the zodiac. "The Musical Zodiac" will be recorded next Spring for release in September, so I hope you enjoy it when it's released!
Me gusta
(

1

)
No me gusta
(

0

)